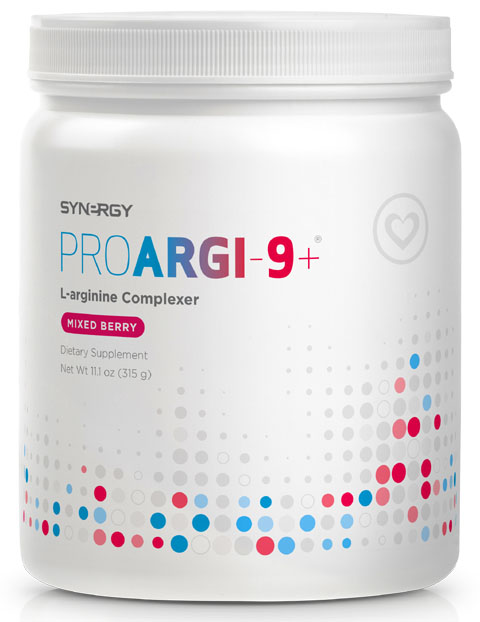 PROARGI-9+
MIXED BERRY, CITRUS BERRY, GRAPE
ProArgi-9 Plus is Synergy's top selling product present in many world markets for several years. One serving contains 5,000 mg of elemental pharmaceutical grade L-arginine and L-citrulline.
The remarkable properties of l-arginine as a precursor of nitric oxide (NO) were validated by the Nobel Prize in Medicine, and since then have created a frenzy of interest in the nutraceutical and pharmaceutical fields. A significant efficacy of L-arginine and L-citrulline as a therapeutic agent has been validated by many scientific studies.
Directly from Synergy Worldwide, U.S.
Shelf life: At last 15 months
Payment: Payment card
Delivery time: 1-2 business days
Available in: 1 Month Stick Packs, 1 Month Canister, 6 Month Jumbo, Mixed Berry, Grape, Citrus Berry taste.
CLICK HERE to buy ProArgi-9 Plus at the Best Price!

ProArgi 9 Plus contains the highest dose of L-arginine
L-citrulline enhances and prolongs the effect of L-arginine
Contains vitamin C (l-ascorbic acid) for normal functioning of the nervous and immune systems
Vitamin K2 (menachinon) for normal bones and blood coagulation
Contains valuable resveratrol in red grape skin extract
Vitamin B6 (pyridoxin) and B12 (cyanocobalamin) for normal red blood cell formation and homocysteine metabolism
Contains also vitamin B9 (folic acid) well known for its application in the prevention of fetal deformities and Alzheimer's disease
Vitamin D3 (cholecalciferol) needed for proper management of calcium and strong bones
Unique formula, the synergistic effect of all components

Flavored for a refreshing, citrus, mixed berry or grape taste

Each batch ProArgi 9 Plus is

tested 250 times for potency and purity

They entered the US pharmacopeia PDR 2014 - 2017

Note: Table of ingredients does not include many minerals and vitamins, which are a component of fruit extracts included in the ProArgi-9+.  The product contains no preservatives and synthetic dyes

ProArgi-9+ can be taken at any time during the day, simply mix one scoop or one packet with 4-8 oz. water (to your taste) and stir until dissolved. One serving may be taken twice per day. Store in a cool, dry place. Keep away from small children.

Sports or fitness: 1 serving 30 minutes before workout.

All  products  prices in the US Synergy Shop are only valid in USA.

The price per packaging unit ProArgi-9 Plus and other supplements depend on the package - in larger packages is cheaper!
Prices do not include tax (8%) and Shipping cost (11.5 $).

"CV" is only a selling points for the distributor.

ProArgi-9 Plus ordered by the US Shop are shipped directly from the warehouse of Synergy Worldwide and delivered only in USA.
You buy directly from Synergy Worldwide. The consignment consists of proof of purchase, which confirms the originality of products and is the basis for consideration of possible claims.

Manufactured at GMP-certified facility in the US.

ProArgi-9+ is not available in pharmacies, it is sold only in direct sales.
CAUTION
As with any nutritional product, consult your doctor before use, especially if pregnant, lactating, have a known medical condition of any kind, or are taking any form of medication or food supplement. This product should not replace a balanced diet and healthy lifestyle.
L-arginine Complexer ProArgi-9+ is not a drug but a dietary supplement. So you can not speak here of the effects of overdose or side effects. Consuming too much can cause an effect similar to overeating. Some individuals may experience loose stool or diarrhea. There are also, although rarely, allergic to any of the ingredients. If in doubt, consult a doctor or nutritionist